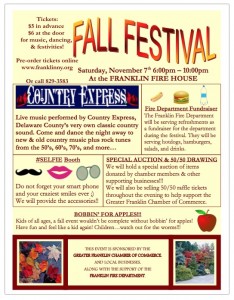 Join us for the Fall Festival on Saturday, November 7th, 6-10pm at the Franklin Fire House (corner Main and Institute Streets in Franklin).
Buy your tickets online with a credit or debit card. Tickets are $5 in advance, or $6 at the door. You may also purchase in advance by calling 607-829-3583.
Live music performed by Country Express, Delaware County's very own classic country sound. Come and dance the night away to new & old country music plus rock tunes from the 50's, 60's, 70's, and more…
Fire Department Fundraiser: The Franklin Fire Department will be serving refreshments as a fundraiser for the department during the festival. They will be serving hotdogs, hamburgers, salads, and drinks.
#SELFIE Booth: Do not forget your smart phone and your craziest smiles ever 😉 We will provide the accessories!!
SPECIAL AUCTION & 50/50 DRAWING: We will hold a special auction of items donated by chamber members & other supporting businesses!!! We will also be selling 50/50 raffle tickets throughout the evening to help support the Greater Franklin Chamber of Commerce.
BOBBIN' FOR APPLES!!! Kids of all ages, a fall event wouldn't be complete without bobbin' for apples! Have fun and feel like a kid again! Children…watch out for the worms!!!
This event is sponsored by the Greater Franklin Chamber of Commerce, and local businesses, along with the support of the Franklin Fire Department.
Buy Fall Festival Tickets Online: