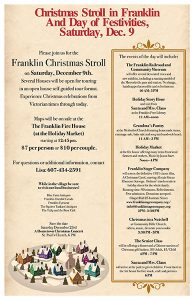 Join us for a day of festivities on Saturday, December 9th in the Village of Franklin
10 a.m. to 5 p.m. – Trees and Trains – several decorated trees and new exhibits including the Merrickville pass and station. No charge, handicapped accessible, refreshments.  The Franklin Railroad and Community Museum, 572 Main St.
10 a.m. to 5 p.m. – Decorated trees – Cookies, cider, and hot chocolate.  Rich Farmhouse Community Center, 574 Main St.
11 a.m. to noon – Christmas Story Hour with visit from Santa and Mrs. Claus.  Franklin Free Library 
11 a.m. to 3 p.m. – Grandma's Pantry – eaturing homemade items, rummage sale, and baked goods. United Methodist Church 
11 a.m. to 3 p.m. – Stroll Luncheon – soup and sandwich.  United Methodist Church 
Noon to 4 p.m. – Holiday Market – offering many items from local farmers and crafters. Music by Jason Starr.  Fire House 
1 p.m. to 5 p.m. – Holiday House Tour – self-guided format. Maps for sale at the Fire House starting 12:45 p.m., $7.00 each, $10 per couple. Village and surrounding town
2 p.m. to 3:30 p.m. – A Christmas Carol – the 1951 classic film.  Refreshments.  Admission free, donations welcomed.  Franklin Stage Company  Chapel Hall
3:30 p.m. – 5:00 p.m. – "Christmas in a Nutshell" Open House – short Christmas videos, decorate your own cookie.  Community Bible Church, 89 Center St. 
4 p.m to 7 p.m. – Senior Class Dinner and Auction of Gift Baskets – $8/Adult, $5/Child  Franklin Central School
Other dining in the village:   The Tulip and The Rose Cafe, 435 Main St.
6:00 p.m. – Cookies, Crafts, and Clause – including pictures with Santa and Mrs. Claus.   Fire House
All venues are handicapped accessible except for some homes on tour.